Regular price
$47.00 USD
Sale price
$17.00 USD
Unit price
per
Sale
Sold out
The 4 Not-So-Secret Ingredients You Need To Include In Your Exercise Routine If You Want Stronger Bones

Here's how to get stronger bones, manage osteoporosis & reduce the risk of fractures or falls—without any floorwork
7 Days Of Classes

30 Minutes/Session

No floorwork

Rated: Easy/Gentle

Equipment: Chair; Dumbbells; Resistance Band; Pillow (Or Towel); Yoga Mat (Or Firm Bed)
Just like how being inactive causes muscle loss, it also causes bone loss. So the best thing you can do is start exercising! Exercise can not only slow or prevent bone loss, but it also helps build up your functional strength—so you reduce the risk of a fracture while also making all your daily activities easier to do. That's a win-win. 
In this class, you'll be focusing on the 4 types of exercise that have the biggest impact on your bone health:
Resistance Training

Aerobic Exercises

Posture Exercises

Balance Training
Each day focuses on 1 type of exercise (resistance, aerobic, active rest or posture training) followed by a balance component before a gentle, stretching cool-down. By the end of the 7 days, you'll have improved all 4 of the most important areas for managing & preventing osteoporosis. The best part? You'll have better posture, more confidence while walking & greater overall strength too!
Instructor: Maria Raitt
Watch the class preview below:
Who is this course for?
Those with osteoporosis

People who want stronger bones

Anyone wanting to prevent future bone loss

Anyone concerned about falls & fractures

Those wanting trustworthy balance

Anyone who wants to improve their overall health

Everyone! All the exercises in this class are gentle & will improve your quality of life
What are the benefits?
Maintain healthy bones

Increase bone & muscular strength

Decrease the rate of bone loss

Improve posture & balance

Greater mobility & stamina

Reduce the risk of falls & injuries

Greater sense of confidence & independence
With this class, you'll get:
7 days of step-by-step classes

30 minutes per session

Zero floorwork required

Closed captioning

Instant access

Own all classes for life (NO subscription)

100% money-back guarantee
FAQ:
Do I need to get down on the floor and back up?

There is one optional floorwork stretch at the end of each class that can also be completed while laying on a firm bed or other surface instead.

What equipment is needed?

You will need a chair, a pair of dumbbells, a resistance band, a pillow or towel, space around you, access to a wall, a yoga mat (for the floorwork option) or a firm bed (for the non-floorwork option), and an exercise step which is optional.

How physically demanding is this class?

Most of the exercises are simple and use only your own body weight. These are easy to do and require little fitness in advance.
Instant access after purchase.
Share
How to use

If you are purchasing a digital class, you will be prompted to login after purchase. You can use the class immediately.

If you are purchasing a DVD, we will ship the DVD out to you within 48 hours of purchase!
100% Money Back Guarantee

Money back guarantee for 90 days. If for whatever reason you are not pleased with a class, we will refund you. If you want to try out another class, we can swap out any class for another! 
View full details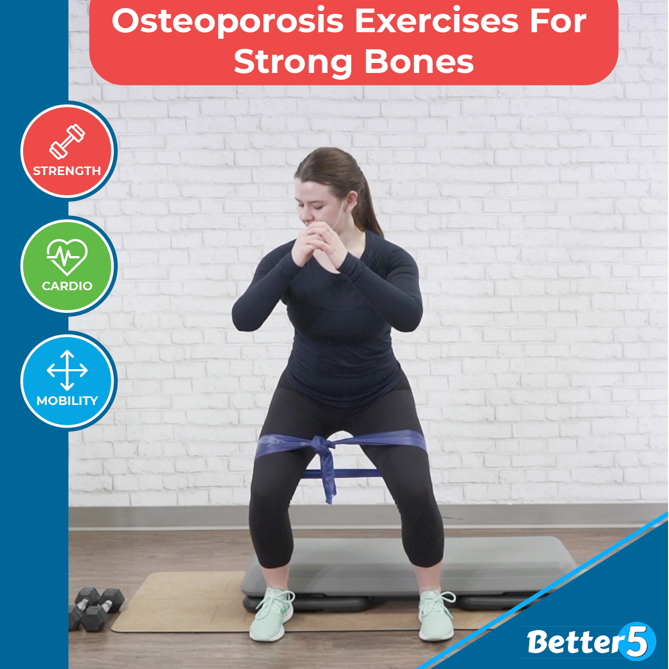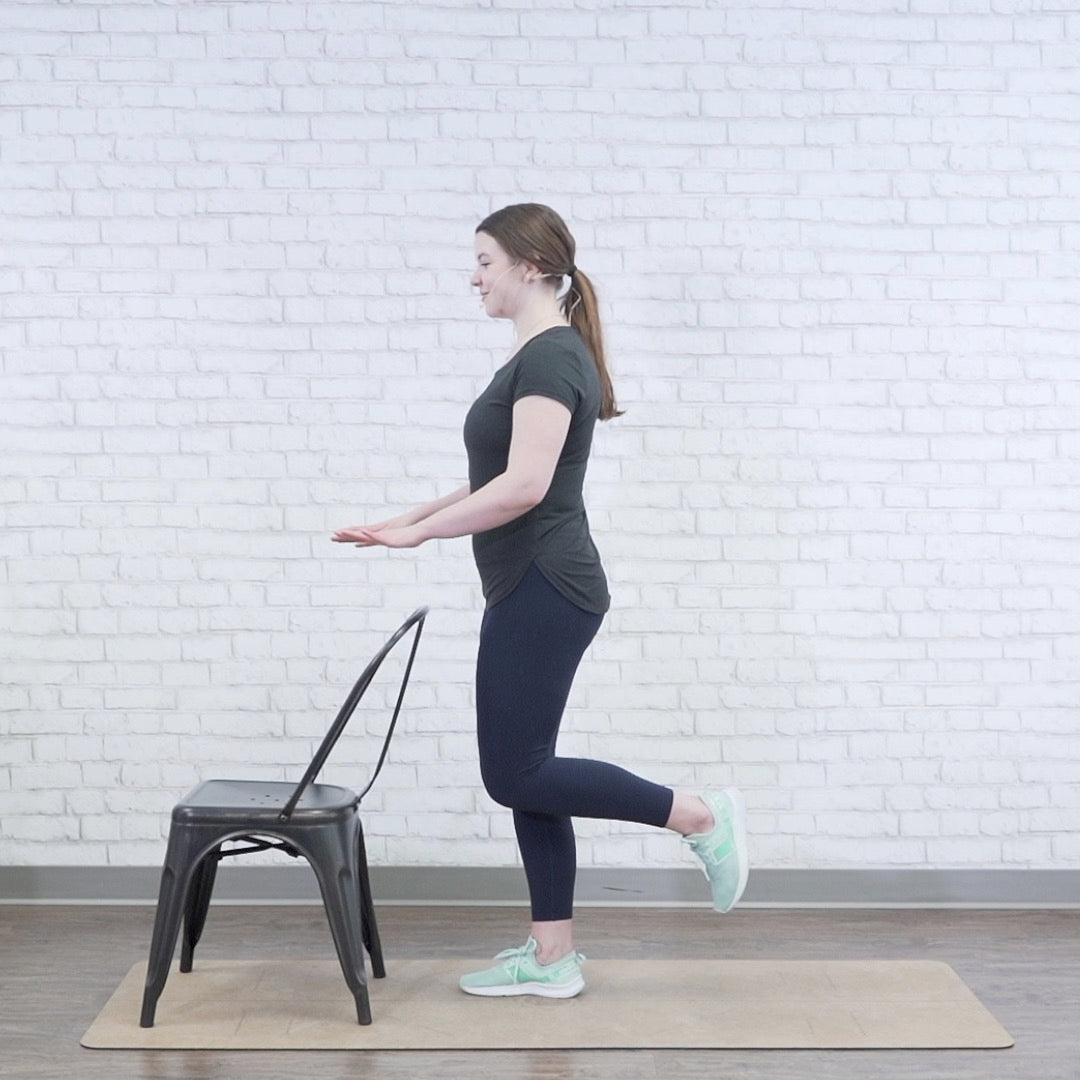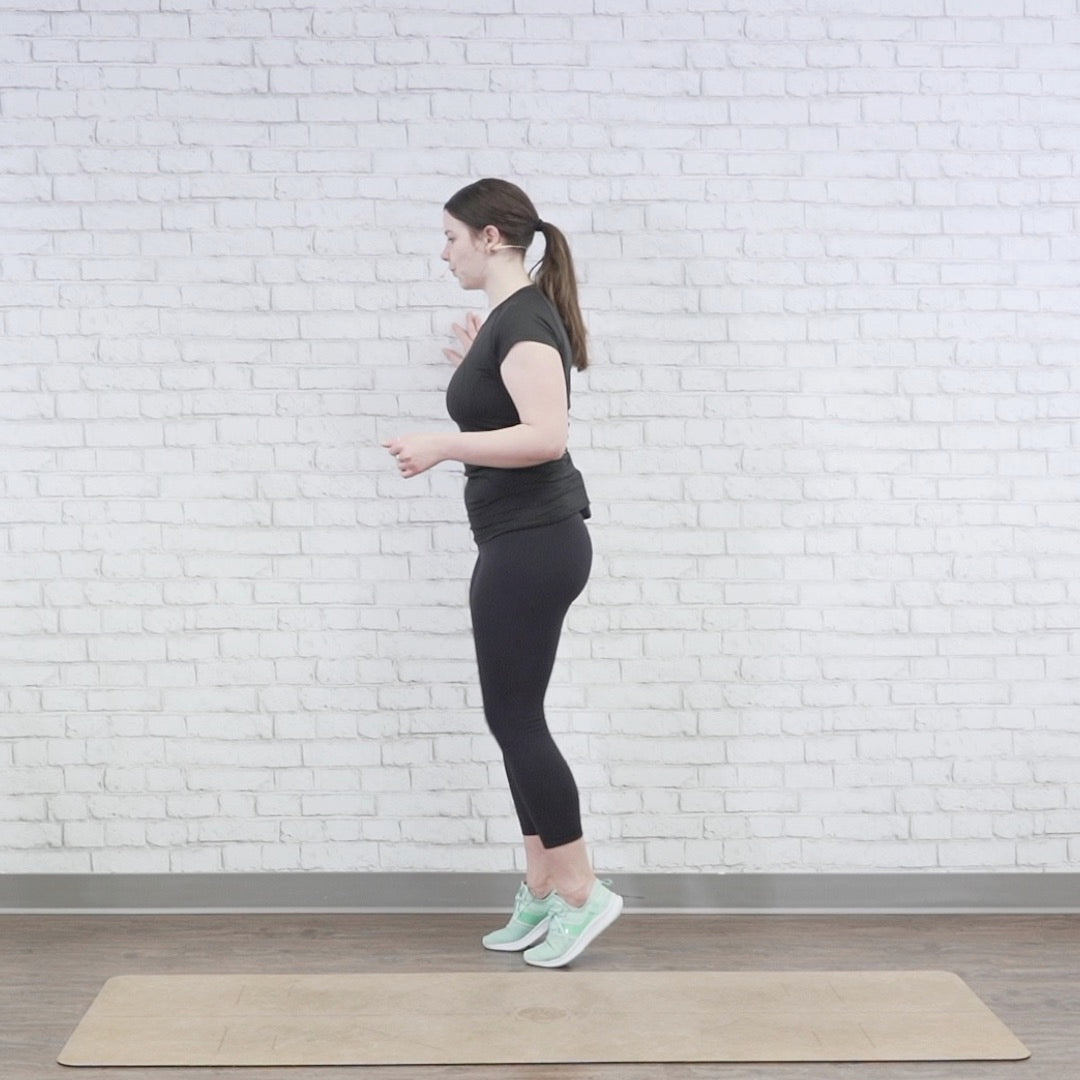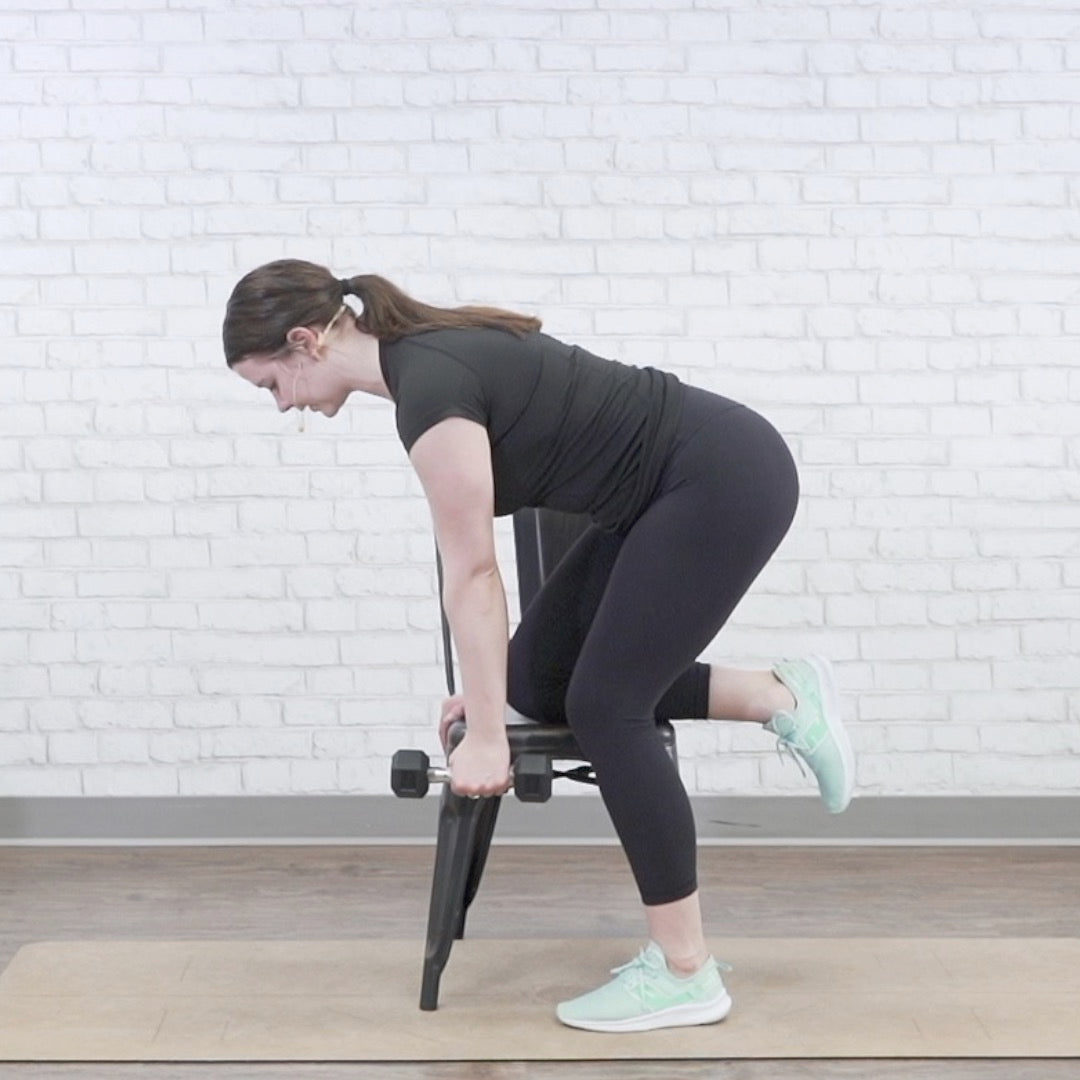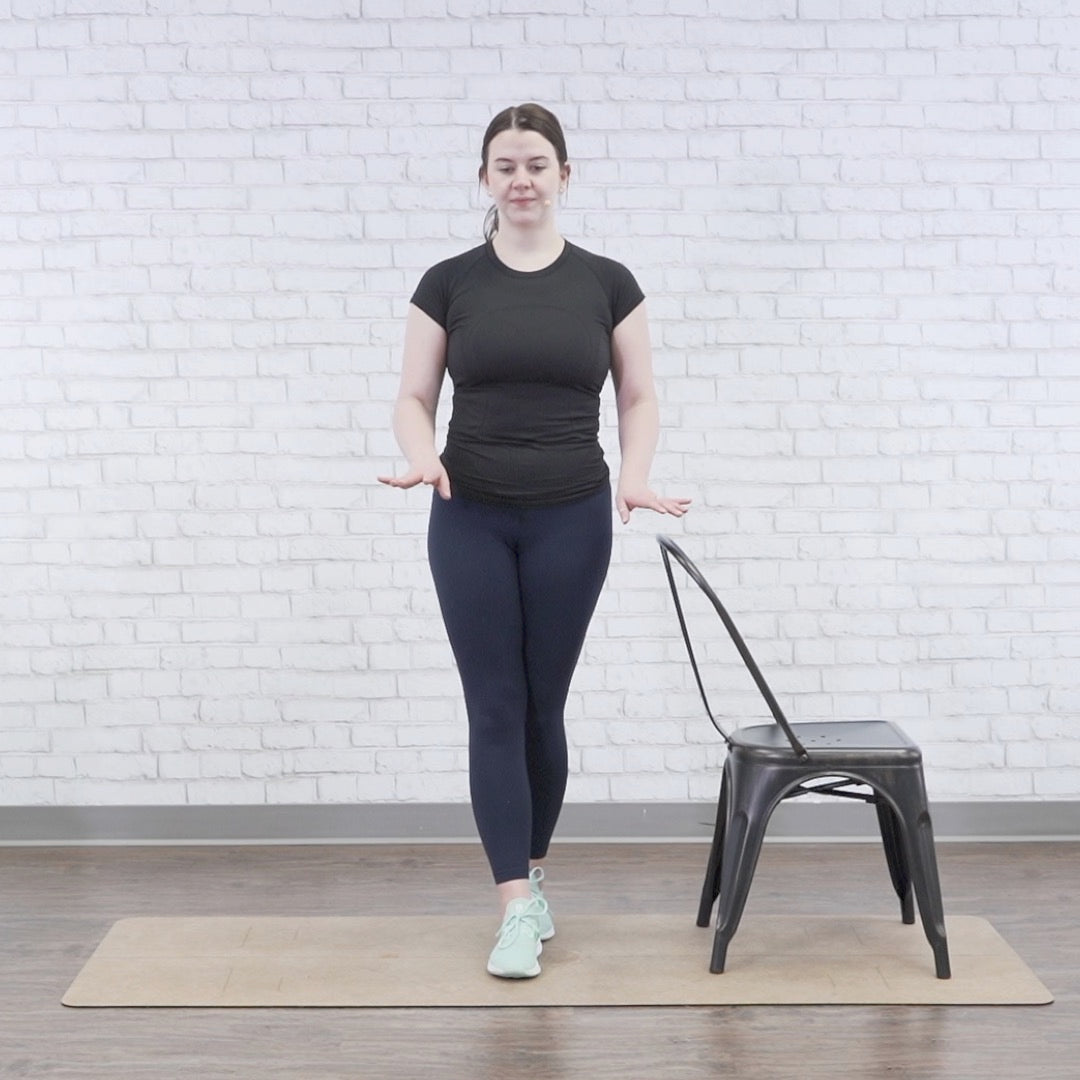 Building strength
I have done two days of this video and already feel the strength building in my weak legs.
great class
I am really enjoying this class, and I can feel it working
Hi Julia! Thank you for your review, we're glad to hear that you can feel it working for you!
Osteoporosis exercises for strong bones digital
These exercises are fantastic. I have osteoporosis so want to build stronger bones if possible as last December broke my wrist. Well explained and not hard to do.
Hi Frances,
We love hearing how the course and exercises are helping you build stronger bones, Frances!
Best,
Des
Better5 Support
Osteoporosis exercises
Love it. I can increase or decrease intensity to accommodate how I feel that day. Movements are not particularly strenuous but you feel it the next day! Some of her explanations seem to ramble on a bit while you're waiting to get started on the exercises. I'd recommend the course.
Hi Eliza,
Thanks again for taking the time to write a review!
Kindly,
Des
Better5 Support