Regular price
$47.00 USD
Sale price
$17.00 USD
Unit price
per
Sale
Sold out
Finally, An Easy Way To Loosen Up Your Myofascial Tissue—Without Any Floorwork

How "myofascial release" frees your muscles & joints from tightness by going beyond the surface to loosen up tight & restrictive connective tissue
5 Days Of Classes

30 Minutes/Session

No Floorwork

Rated: Easy/Beginner

Equipment: Chair; Tennis or Physio Ball; Yoga Strap
Instructor: Shalanne Wilkison
This is the class that allows you to get rid of stubborn stiffness by going deeper than your surface-level muscles. You'll release tension from your deeper myofascial tissue (which is the tissue that connects all your muscles, joints & bones) to regain your range of motion & break free from stiffness—all while seated in a chair. 
There is absolutely no floorwork. Each day you'll be taken through a gentle series of massage & yoga techniques that target the specific pressure points in your connective tissue that are restricting your movement and causing you to feel tight & stiff. These are special techniques that use slow, steady pressure to gently soften the fascia and get your body moving smoothly again.
Watch the class preview below:
Who is this course for?

Anyone feeling tight or restricted in their body

People with tension or stiffness

Those who spend a lot of time sitting

Anyone who has lost flexibility or function

People with ongoing pain in any major muscle group (back, shoulder, hips, quads, glutes, calves)

Everyone! All the movements in this program are easy to do
What are the benefits?
Releases connective tissues that line our muscles and joints

Relief from pain & stiffness

Loosens up stiff muscles

Creates freedom of motion so you can move your body with ease

Unlocks stuck bones

Increases range of motion

Improves flexibility

Brightens your mood

Releases pressure & tightness

Feels great!
With this class, you'll get:
5 days of step-by-step classes

30 minutes per session

ZERO floorwork—absolutely no getting down on the ground

Closed captioning

Instant access

Own all classes for life (NO subscription)

100% money-back guarantee
FAQ:
Do I need to get down on the floor?

No, all movements are completed while seated in a chair.

What equipment is needed?

You will need a chair, a tennis or physio ball, and a yoga strap.

How physically demanding is this class?

This is an easy class. All the movements are slow & gentle and require little effort.  
Instant access after purchase.
Share
How to use

If you are purchasing a digital class, you will be prompted to login after purchase. You can use the class immediately.

If you are purchasing a DVD, we will ship the DVD out to you within 48 hours of purchase!
100% Money Back Guarantee

Money back guarantee for 90 days. If for whatever reason you are not pleased with a class, we will refund you. If you want to try out another class, we can swap out any class for another! 
View full details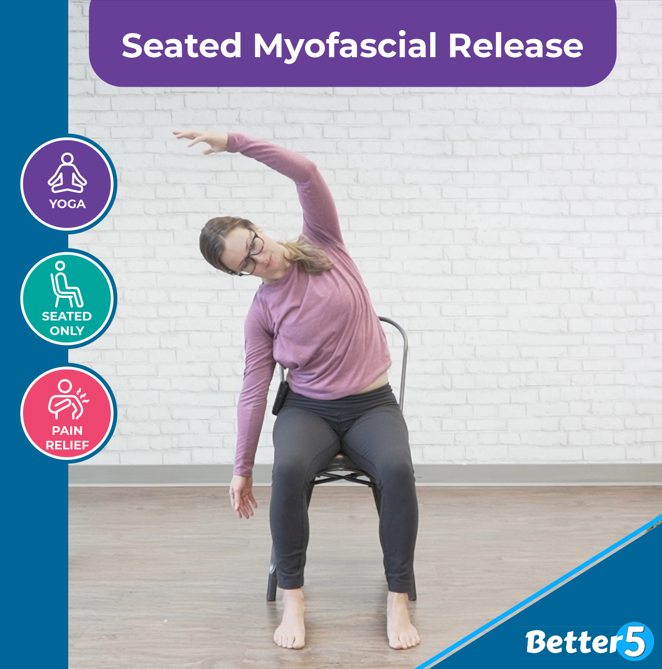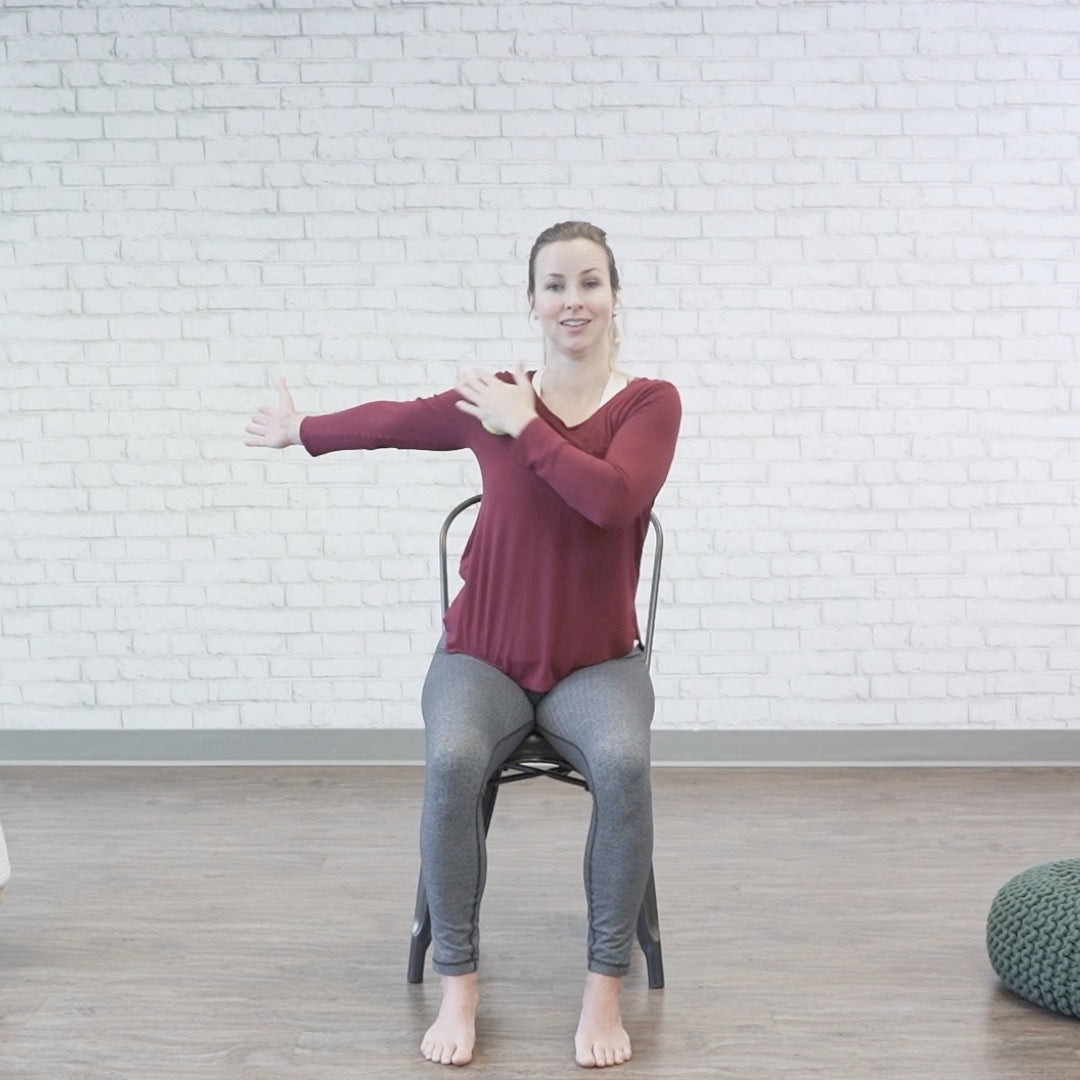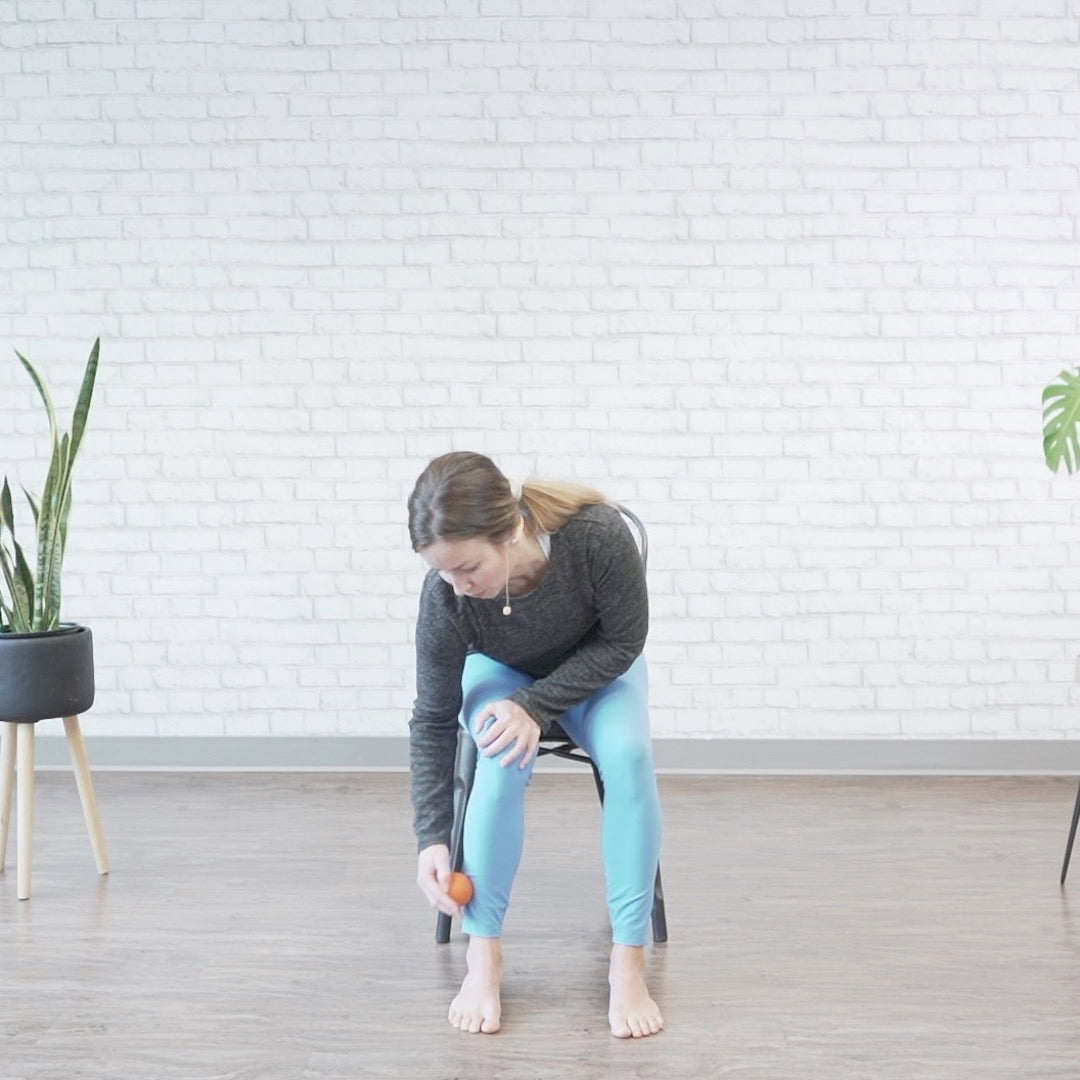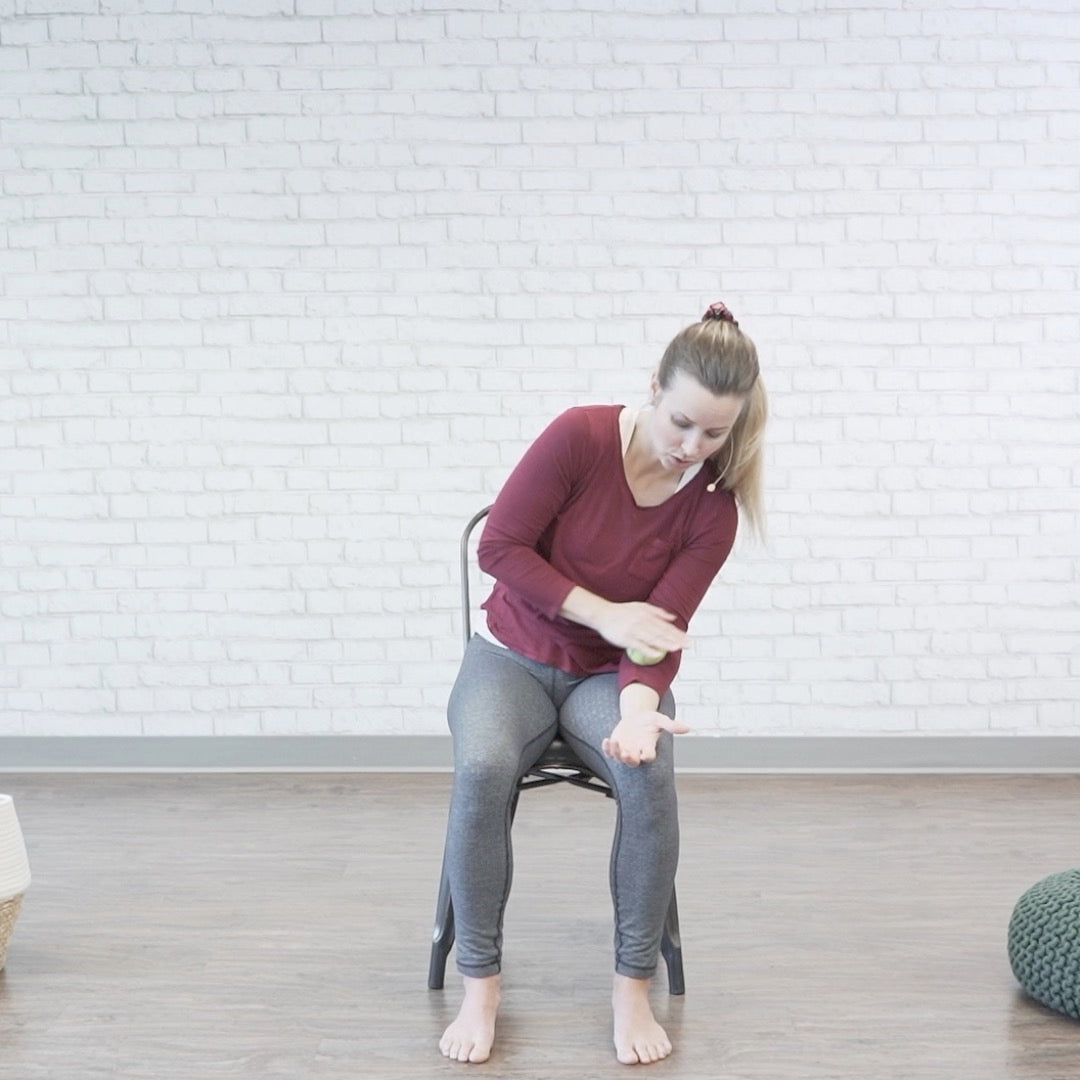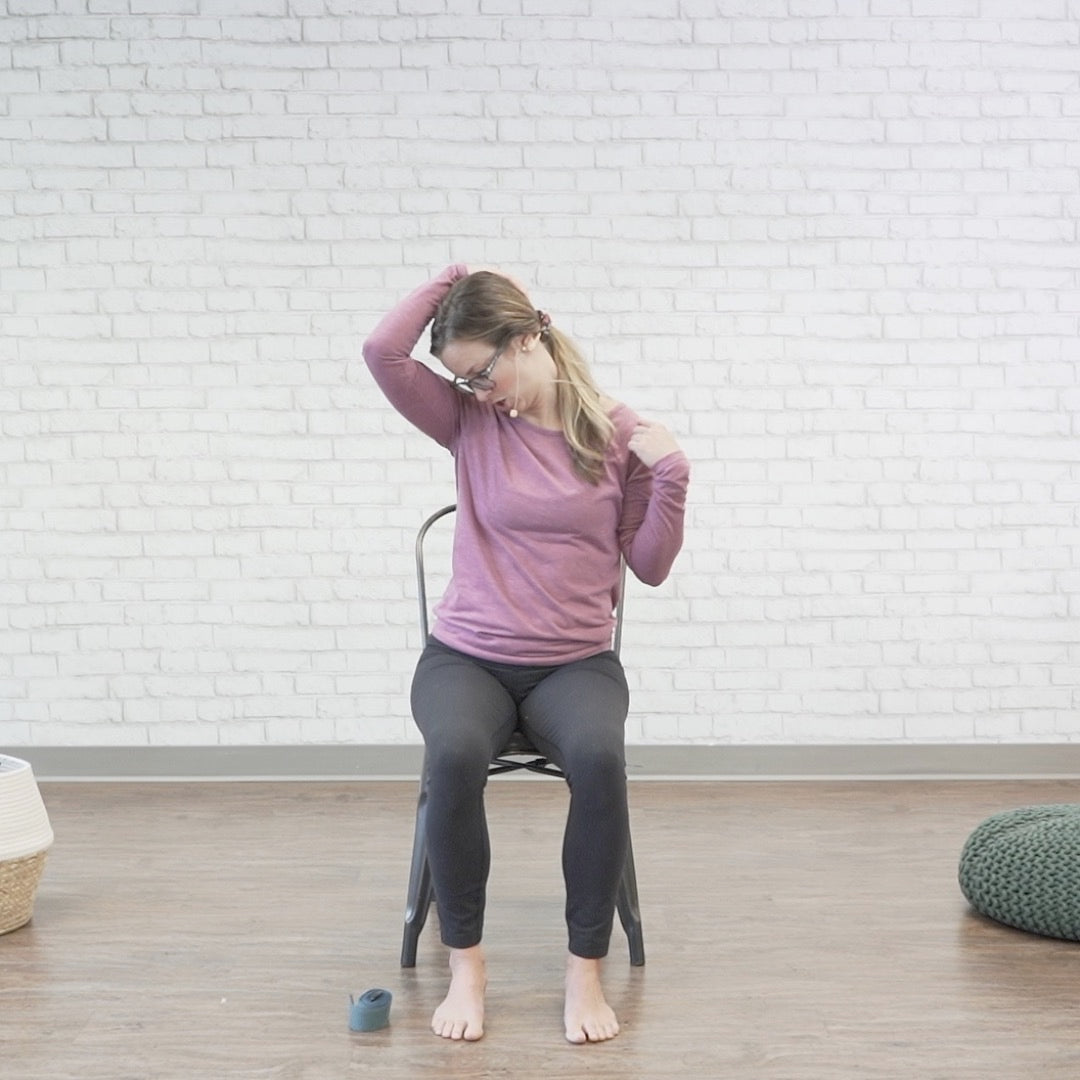 Amazing!
I noticed a difference from the first class. I moved better and had less pain; I even slept an additional hour without pain medication. My physiotherapist noticed a greater movement in my injured shoulder and my husband said everything was less knotted when he gave me a massage. I've only done the first class (2x) and the second class (1x), but feel improvement. I'm excited to continue.
Hi Marjorie,
Thank you for the wonderful class review, Marjorie!
We enjoyed hearing about how the class is helping you :)
Best,
Des
Better5 Support
Seated Myofascial Release
I'm enjoying my classes very much , and will continue
to work with the Better5 videos, which are great 🙂
Hi Noelle,
Thank you for your feedback! We're glad you're enjoying the Myofascial Release class!
Best,
Better5 Support
Loosen up & live well
Explanations are clear and brief, which I appreciate. Alternative options are given for varying comfort levels and ability. The stretches and gentle exercise are excellent for reaching those hard-to-access aches and pains. Sometimes a deep stretch feels great in the moment, but the next day my arthritis says, no - so, take it easy on advancing to the most intense version of a pose until you get to know the series. There are plenty of gentler alternatives offered. Altogether, a great way to feel loosened up and ready to live.
Hi Jen,
We appreciate the positive feedback! We are so pleased to hear how much you are enjoying your classes! ️
All the best,
Des
Better5 Support
I was amazed that such small movements could make such a difference.