Regular price
$47.00 USD
Sale price
$17.00 USD
Unit price
per
Sale
Sold out
Here's How The Most Popular Exercise For Getting Rid Of Stiffness Can Also Increase Your Mobility—In 7 Days
How to improve your quality of life as you age by increasing your mobility
7 Days Of Classes

30 Minutes/Session

No floorwork

Rated: Easy/Gentle

Equipment: Chair; Resistance Band
Instructor: Shalanne Wilkison
It mostly comes down to your joints. These are the parts of your body where your bones meet to allow movement. Each of our joints has a specific range of motion that lets us bend and reach and do all of our daily tasks—from putting away the dishes to getting into the car—with ease.
As we age, the range of motion in our joints begins to shorten if we don't practice mobility exercises regularly to keep them flexible. This often shows up as stiffness in our shoulders, hips, quads, ankles and spine. As you're probably well-aware of, it's the stiffness and pain that prevents us from functioning as well as we want to.
The solution? Assisted Chair Yoga for Full Body Mobility. In this class you will gently open up your joints while lengthening and strengthening your muscles so you can improve your range of motion and unlock a life of better movement and day-to-day functioning.
Watch the class preview below:
Who is this course for?
Anyone with limited flexibility & mobility

Older adults

Anyone who spends most of the day sitting

Beginners looking for a safe & gentle progressive class

Anyone who doesn't want to get down on the floor to exercise

Everyone! It's great for all fitness levels
What are the benefits?
Increased whole-body strength

Improved balance

Better posture

More range of motion in your joints

Increased flexibility

More confidence when moving
With this class, you'll get:
7 days of step-by-step classes

30 minutes per session

ZERO floorwork—absolutely no getting down on the ground

Closed captioning

Instant access

Own all classes for life (NO subscription)

100% money-back guarantee
FAQ:
Do I need to get down on the floor and back up?

No. All exercises are done either from a chair or using it for support. You will never have to get down on the ground.

What equipment is needed?

For this class, you'll need a chair and a resistance band.

How physically demanding is this class?

Most of the exercises are simple and use only your own body weight. These are easy to do and require little fitness in advance.
Instant access after purchase.
Share
How to use

If you are purchasing a digital class, you will be prompted to login after purchase. You can use the class immediately.

If you are purchasing a DVD, we will ship the DVD out to you within 48 hours of purchase!
100% Money Back Guarantee

Money back guarantee for 90 days. If for whatever reason you are not pleased with a class, we will refund you. If you want to try out another class, we can swap out any class for another! 
View full details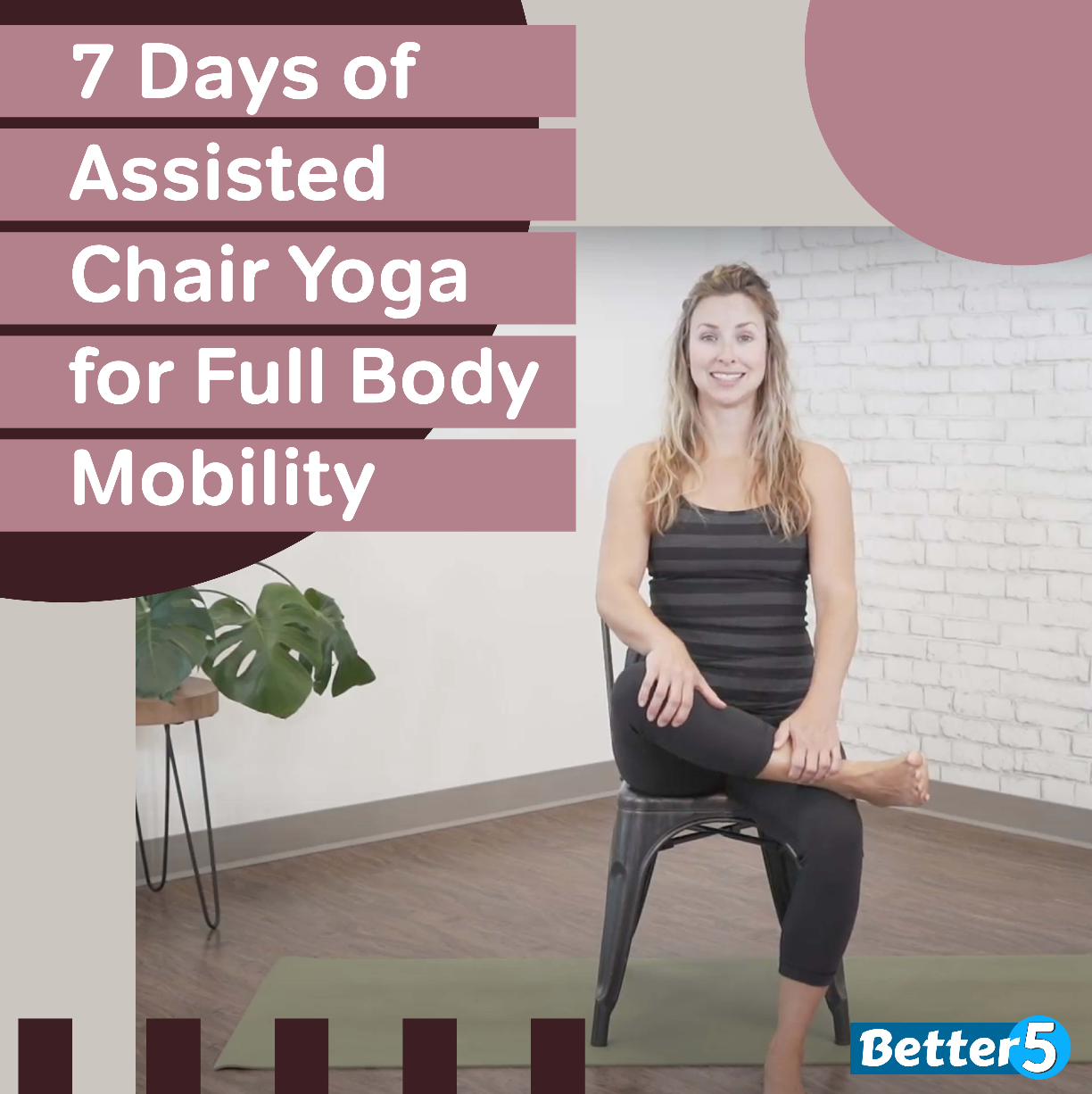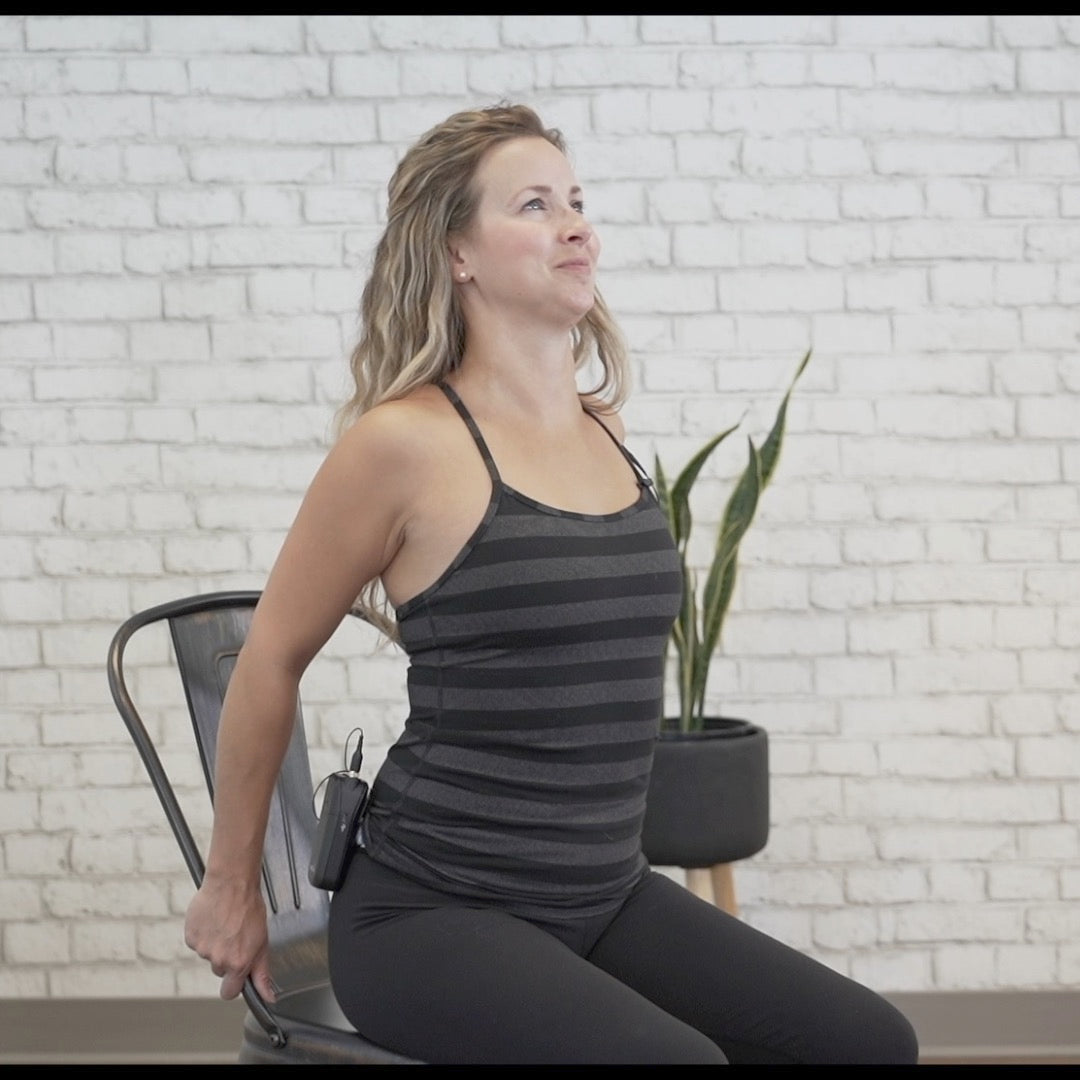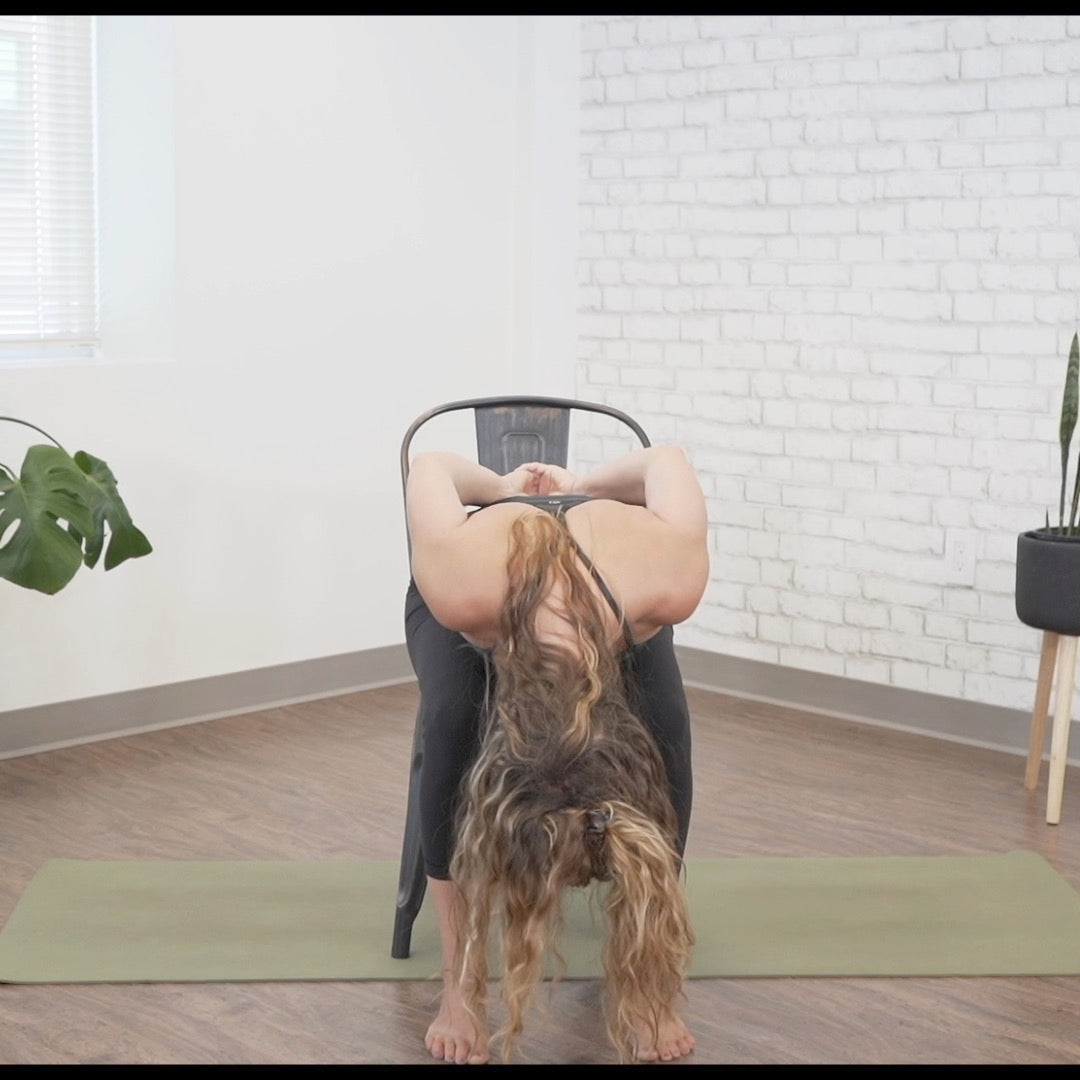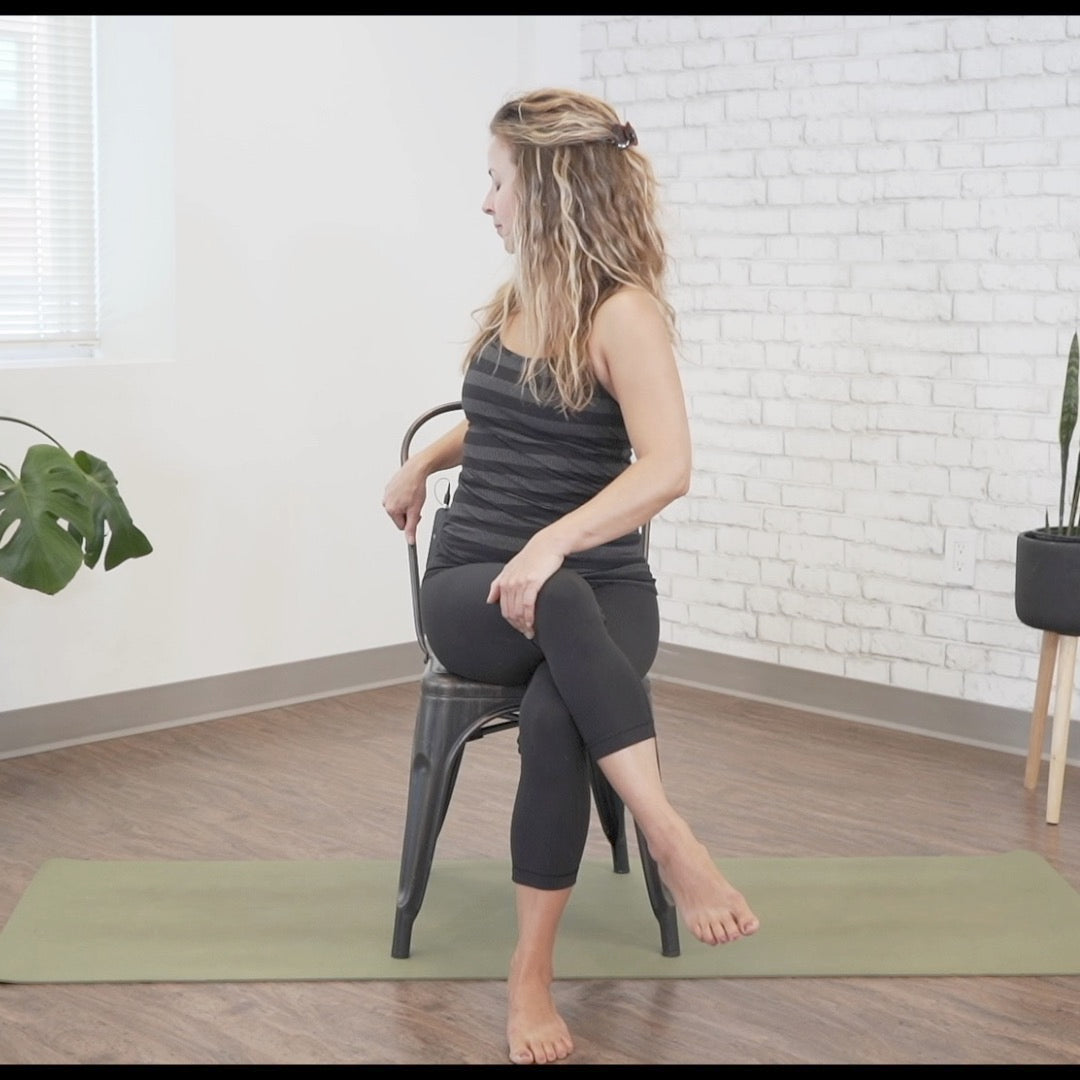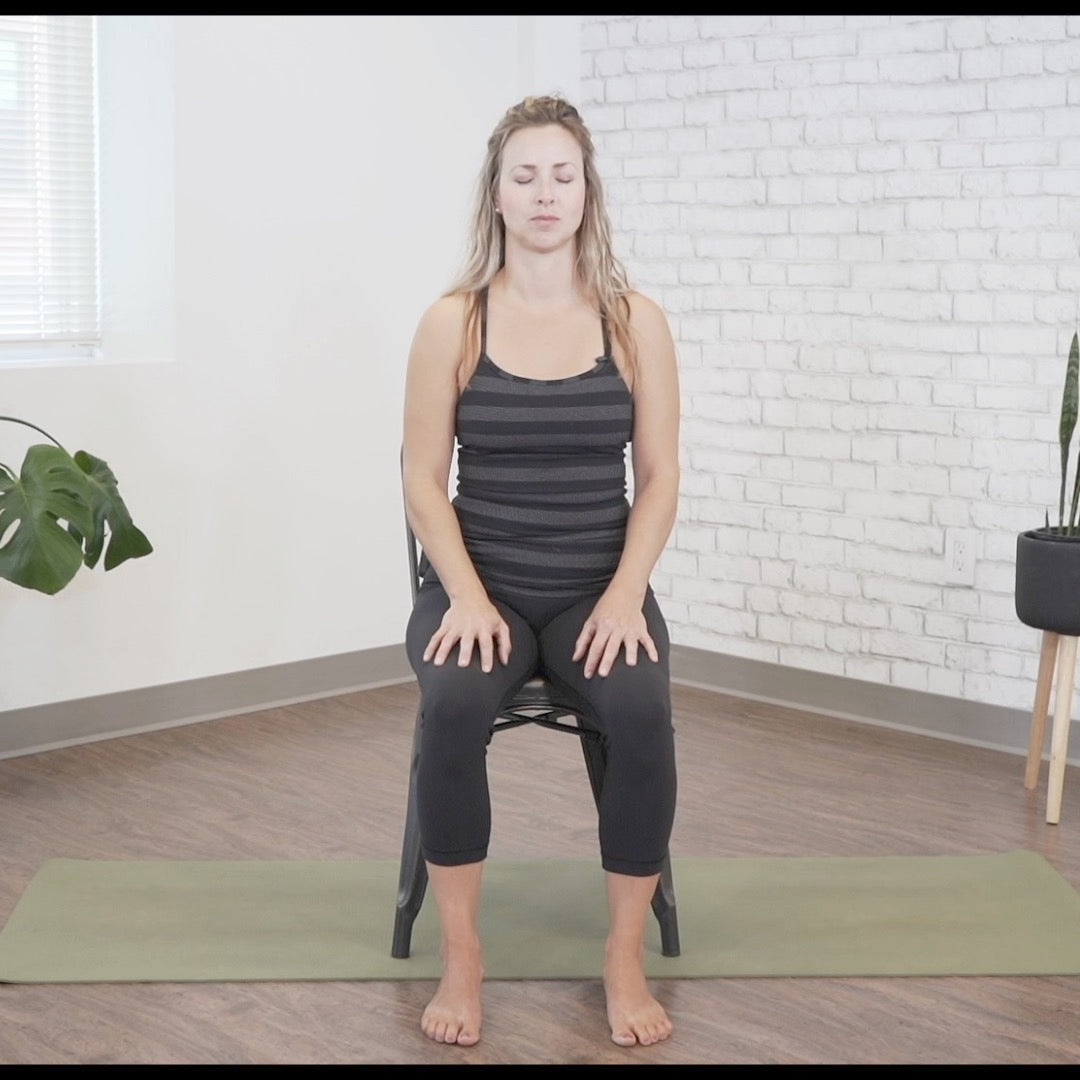 7 Days of Assisted Chair Yoga for Full Body Mobility Digital Class
Anyone can do this
During the winter, when I can't get out for my walk, I do
My Better5 programs.
They are accident proof. For my age.
Enjoy variety too.
A Class I could Do
I have been struggling with my balance and knees these past few years ....... I am 79 ..... I do not move how I use to. I use to practice yoga 3 days a week at my local recreational center before COVID....... this class has provided me a good stretch and I feel so much better..... thank you.....