Regular price
$47.00 USD
Sale price
$17.00 USD
Unit price
per
Sale
Sold out
All The Benefits Of A Cardio Workout—In ½ The Time

Burn calories, increase endurance & improve your heart health in half the time of a traditional cardio session—with interval training!
7 Days Of Classes

15-20 Minutes/Session

No floorwork

Rated: Intermediate/Moderate

Equipment: Step Or Stair (Optional)
Instructor: Maria Raitt
The secret to cutting your exercise time in half without losing out on any of the benefits… is interval training. You'll do short bursts of activity where you push yourself (but not too hard!) followed by a recovery period where you continue the activity, but at a very low intensity. 
Throughout this course you'll be doing intervals of exercises such as:
Small step ups

Walking marches

Modified jacks (like jumping jacks, but low impact)

Bodyweight squats

High knee step ups 
Each short 15-20 minute class includes a warm up, 5 intervals & a cool down. Designed specifically for older adults, this program makes interval training possible for those over 50 who are confident in their balance.
Watch the class preview below:
Who is this course for?
Active older adults looking for a new routine

Anyone wanting improved cardiovascular health without lengthy workouts

Older adults interested in HIIT or interval training

Those looking for an efficient cardio program

Busy people or those who want to spend less time exercising—without compromising results

Those with reliable balance who don't need balance supports when exercising

Anyone who wants to get fit & feel great!
What are the benefits?
Get results in a shorter period of time

Improved cardiovascular health

Improves your body's ability to use the glucose in your blood for energy

Decreased resting heart rate

Decreased blood pressure

Increased cardio endurance

Improved balance

Improved management of cholesterol

Increased lung & heart strength

Better coordination

Increased energy & mood

Improved bone density

Increased metabolic rate

Improved sleep

Increases your metabolic rate for up to 24 hours after

Helps with weight management
With this class, you'll get:
7 days of step-by-step classes

15-20 minutes per session

ZERO floorwork—absolutely no getting down on the ground

Closed captioning

Instant access

Own all classes for life (NO subscription)

100% money-back guarantee
FAQ:
Do I need to get down on the floor and back up?

No, all exercises are done while standing.

What equipment is needed?

All you need is a clear space and an exercise step or stair.

How physically demanding is this class?

This is a gentle, yet moderately challenging class with an intermediate difficulty rating. It is for active older adults who have decent balance.

Is interval training safe for older adults?

Yes, it's safe for any older adult who has been cleared for exercise by their doctor. If you have been diagnosed with a cardiovascular disease or are at risk for one, be sure to talk to your doctor before starting a new workout routine.
Instant access after purchase.
Share
How to use

If you are purchasing a digital class, you will be prompted to login after purchase. You can use the class immediately.

If you are purchasing a DVD, we will ship the DVD out to you within 48 hours of purchase!
100% Money Back Guarantee

Money back guarantee for 90 days. If for whatever reason you are not pleased with a class, we will refund you. If you want to try out another class, we can swap out any class for another! 
View full details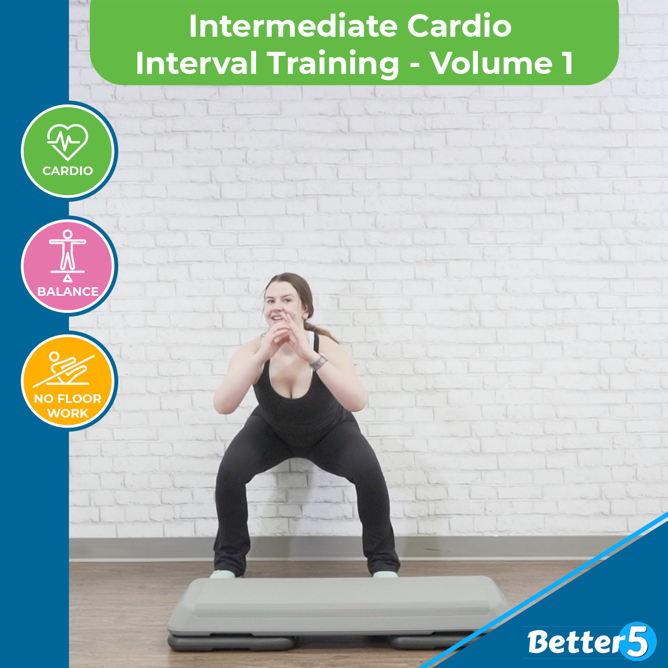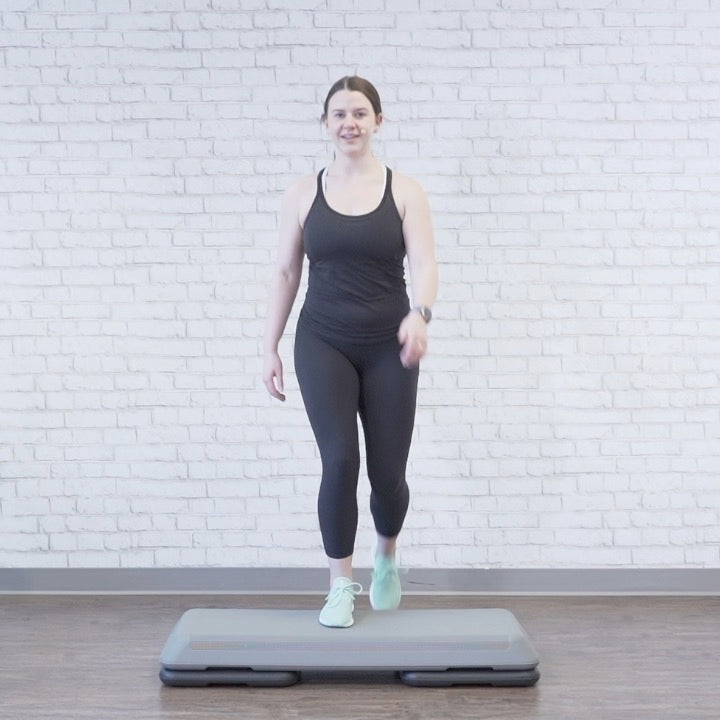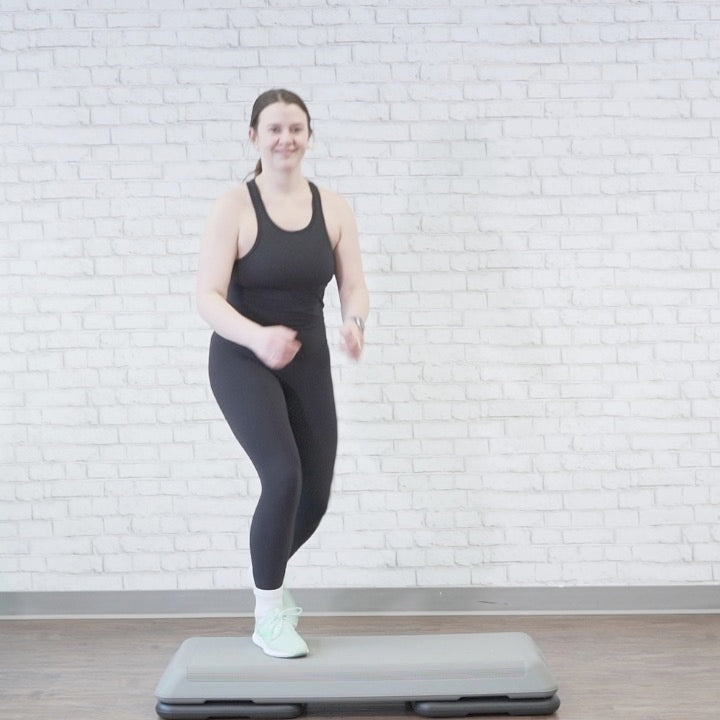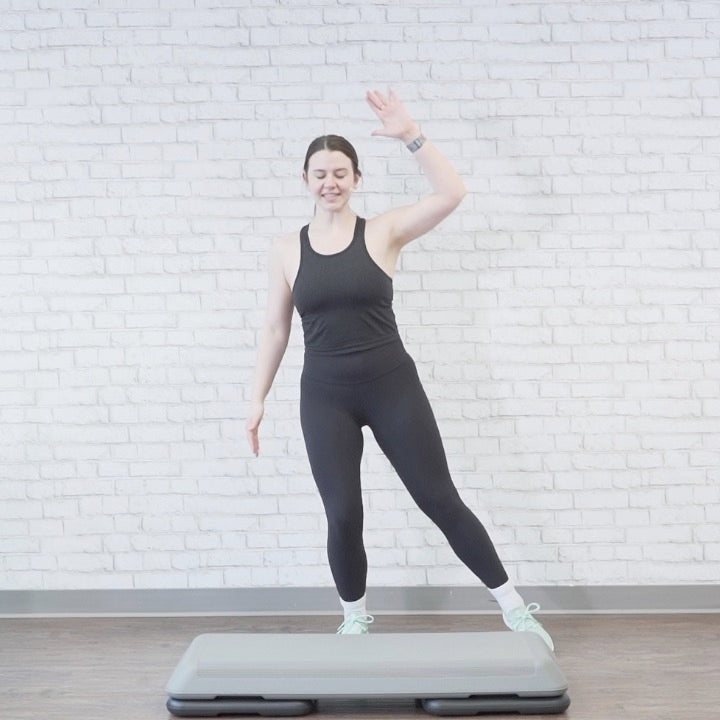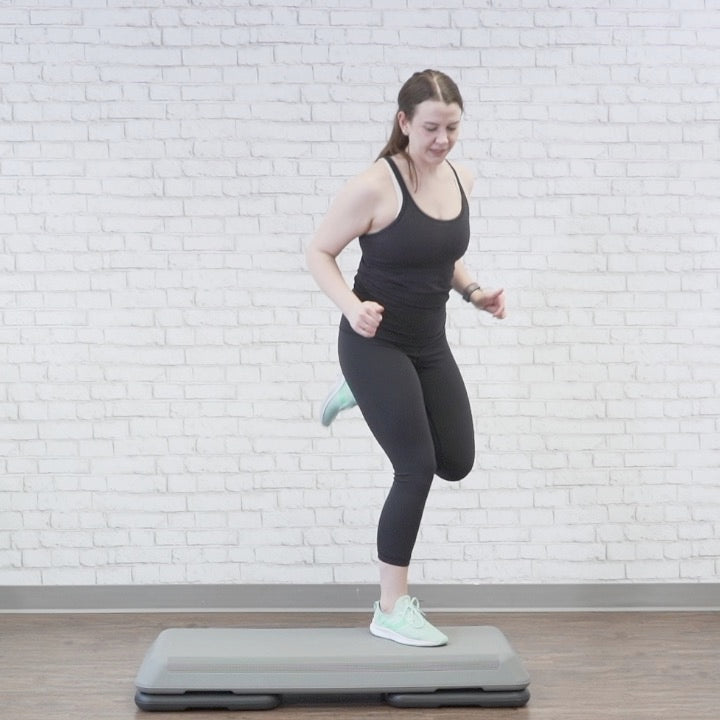 Great cardio class
This is vol 2 of cardio intervals class. I have just started it and I am enjoying it. I found bol 1 a bit slow for me, but this one rocks.
Hi Usha,
We greatly appreciate your feedback about the classes, and love that you are enjoying the Volume 2 class!
Kindly,
Des
Better5 Support :)
Hi Ana,
We appreciate the review!
Enjoy your classes!
Des
Better5 Support
Finished that and on to volume 2
I love. volume1 wish 2 werent step otherwise its good also
A good class for hiit! Need more!
This class is good. I actually bought a step for it. I suppose I am relatively fit compared with some users, but I would like more, possibly longer, along with using light weights to add to the intensity.
Hi Jennifer,
Thank you for your feedback! We're glad you enjoyed the class and were able to add weights in order to add challenge and intensity to the course! :)
Best,
Des
Better5 Support
Jan's viewpoint
Love this course. I so intend doing these sessions as often as possible. I have subscribed to several courses and have enjoyed them all but I think this one really suits what I need. Will there be an advanced class?