Regular price
$47.00 USD
Sale price
$17.00 USD
Unit price
per
Sale
Sold out
Gently Deflate Belly Bloating & Soothe Your Digestive Suffering—With Simple Chair Yoga Poses!
It's like an internal massage for your digestive system that gently gets things moving, helps ease the symptoms of digestive disorders & improves overall gut health
5 Days Of Classes

25 Minutes/Session

No Floorwork (Primarily seated)

Rated: Very Easy/Gentle

Equipment: Chair; Yoga Mat
Instructor: Shalanne Wilkison
Yoga is a fantastic (and gentle!) way to improve your digestive system & get relief from stomach issues. Through slow twists and gentle poses, yoga can help alleviate bloating—which is particularly helpful anytime you eat a large meal and feel too "stuffed." 
But the impact of yoga on your digestive system doesn't stop there…
The style of breathing used in yoga reduces stress by activating the parasympathetic nervous system—which plays a key role in your gut health. Yoga also improves blood flow to your digestive system which can help prevent constipation, ease digestion and further reduce bloating. 
Through a combination of deep breathing, stretches that target your abdomen & internal organs, and internal massaging through gentle twisting actions, this class will help you get that digestive flow moving!
Whether you've simply eaten too large of a meal or you're suffering from symptoms of digestive issues like Crohn's, IBS or even ulcerative colitis, the specific poses & techniques of this yoga class can help you get relief—all without having to get down on the ground.
Watch the class preview below:
Who is this course for?
Older adults or anyone needing digestion support

Anyone who experiences bloating, constipation, or digestive discomfort

Anyone struggling with the symptoms of IBS, Crohn's, or ulcerative colitis

Those who have over-indulged in a large meal

Those wanting to feel better in their body 

Anyone looking to improve mobility & flexibility

Beginners looking to get into a safe & effective yoga routine
What are the benefits?
Improves digestion

Reduces bloating & stomach discomfort

Improves gut health

Helps prevent constipation

Increases blood flow to digestive system—helping to prevent constipation, ease digestion & reduce bloating

Reduces stress—which positively impacts the gut-brain connection

Improves circulation

Increases bodily comfort

Increases energy

Improves flexibility & mobility
With this class, you'll get:
5 days of step-by-step classes

25 minutes per session

ZERO floorwork—absolutely no getting down on the ground

Closed captioning

Instant access

Own all classes for life (NO subscription)

100% money-back guarantee
FAQ:
Do I need to get down on the floor and back up?

No, there is zero floorwork required for this course. It is primarily done from a seated position.

What equipment is needed?

For this class, you'll need a sturdy chair and a yoga mat.

How physically demanding is this class?

This is a gentle & easy class that anyone of any fitness level can do. All movements & poses are slow & gentle.
Instant access after purchase.
Share
How to use

If you are purchasing a digital class, you will be prompted to login after purchase. You can use the class immediately.

If you are purchasing a DVD, we will ship the DVD out to you within 48 hours of purchase!
100% Money Back Guarantee

Money back guarantee for 90 days. If for whatever reason you are not pleased with a class, we will refund you. If you want to try out another class, we can swap out any class for another! 
View full details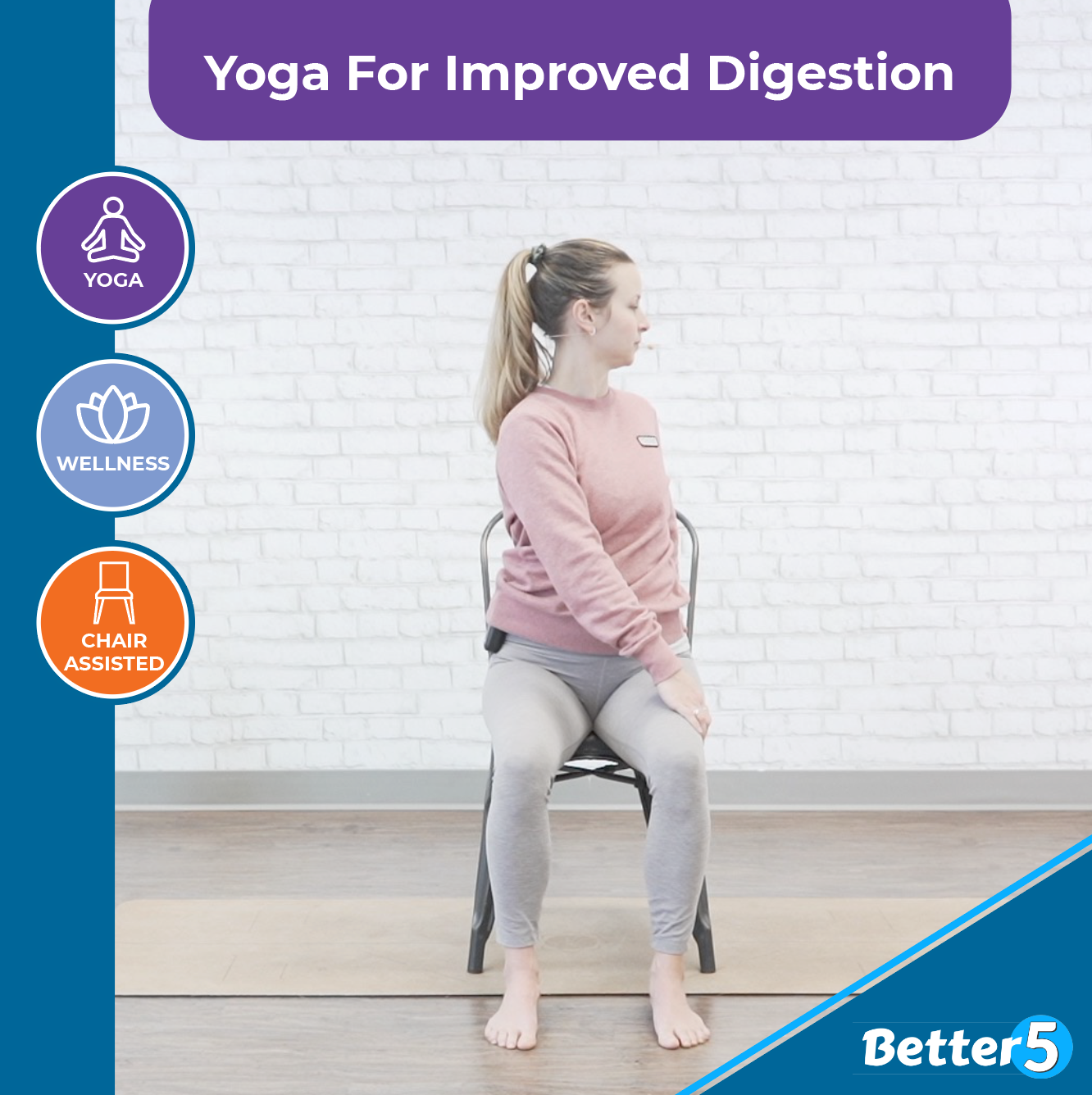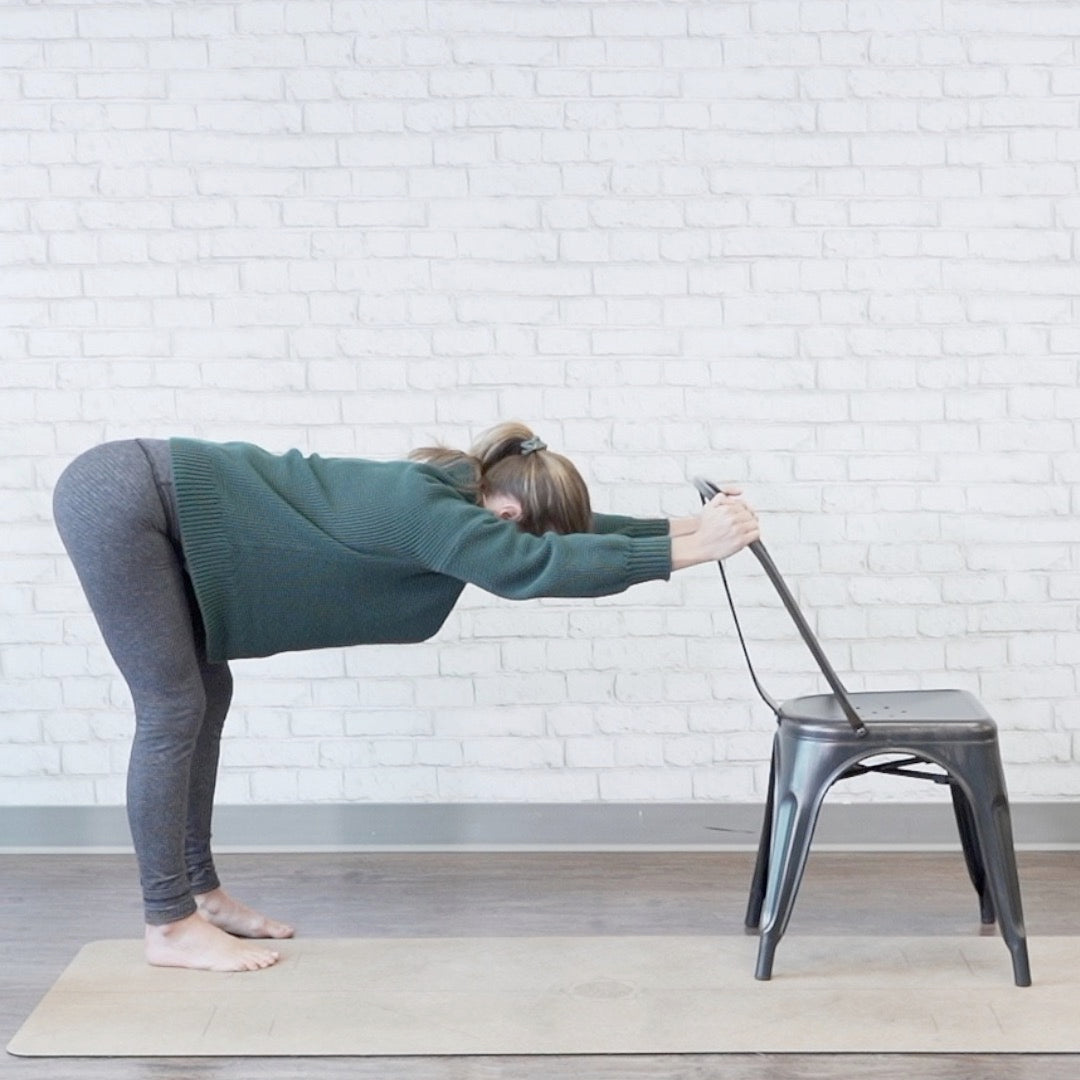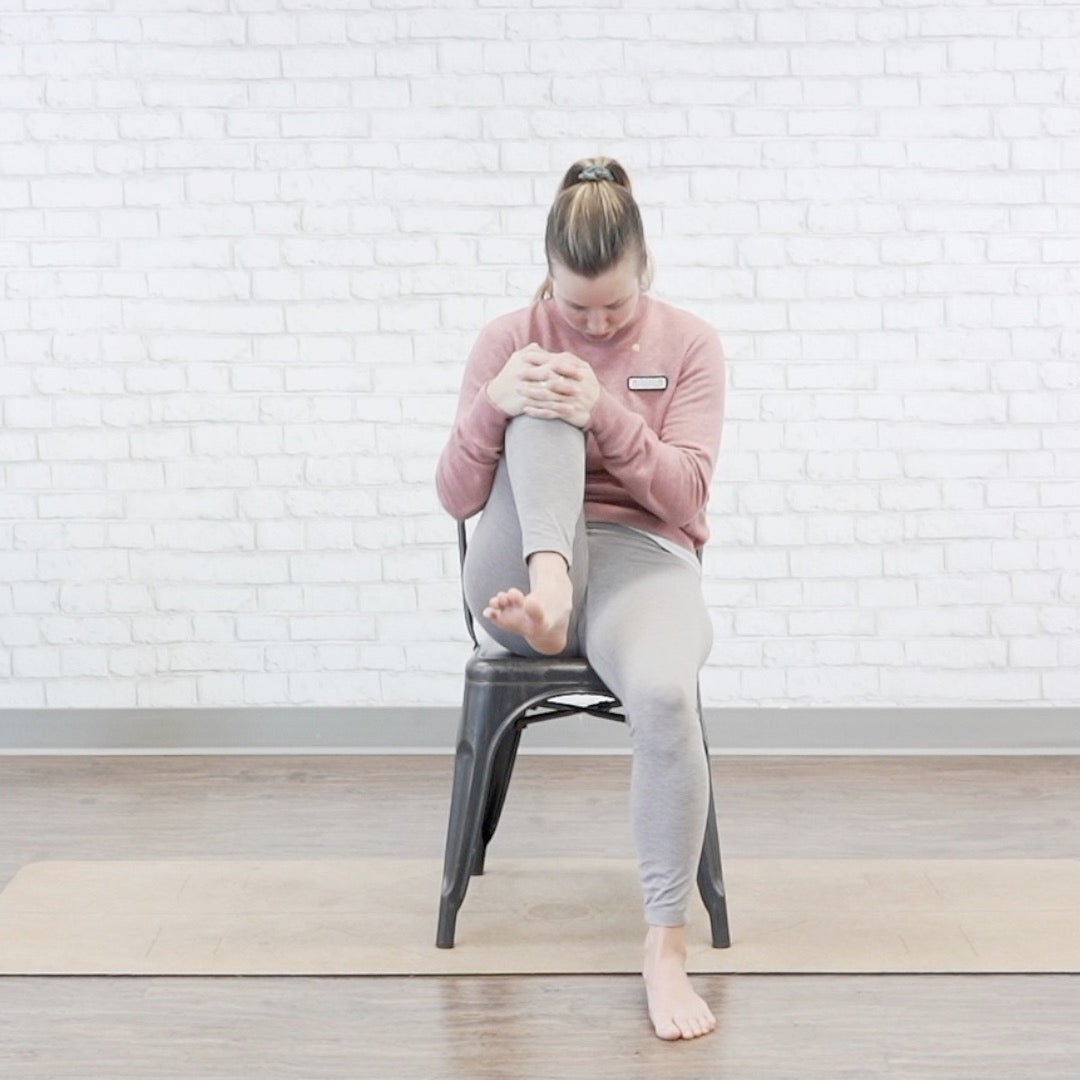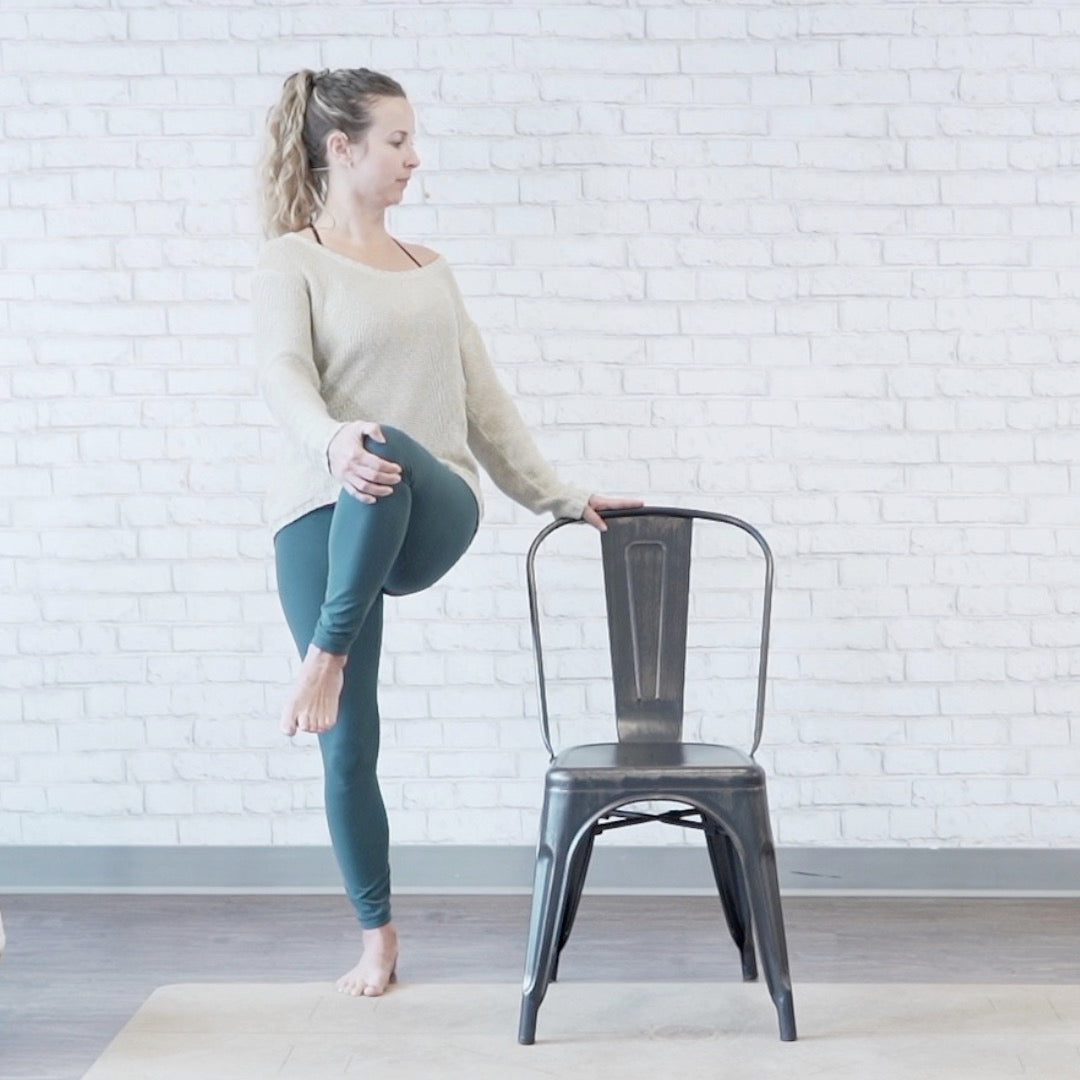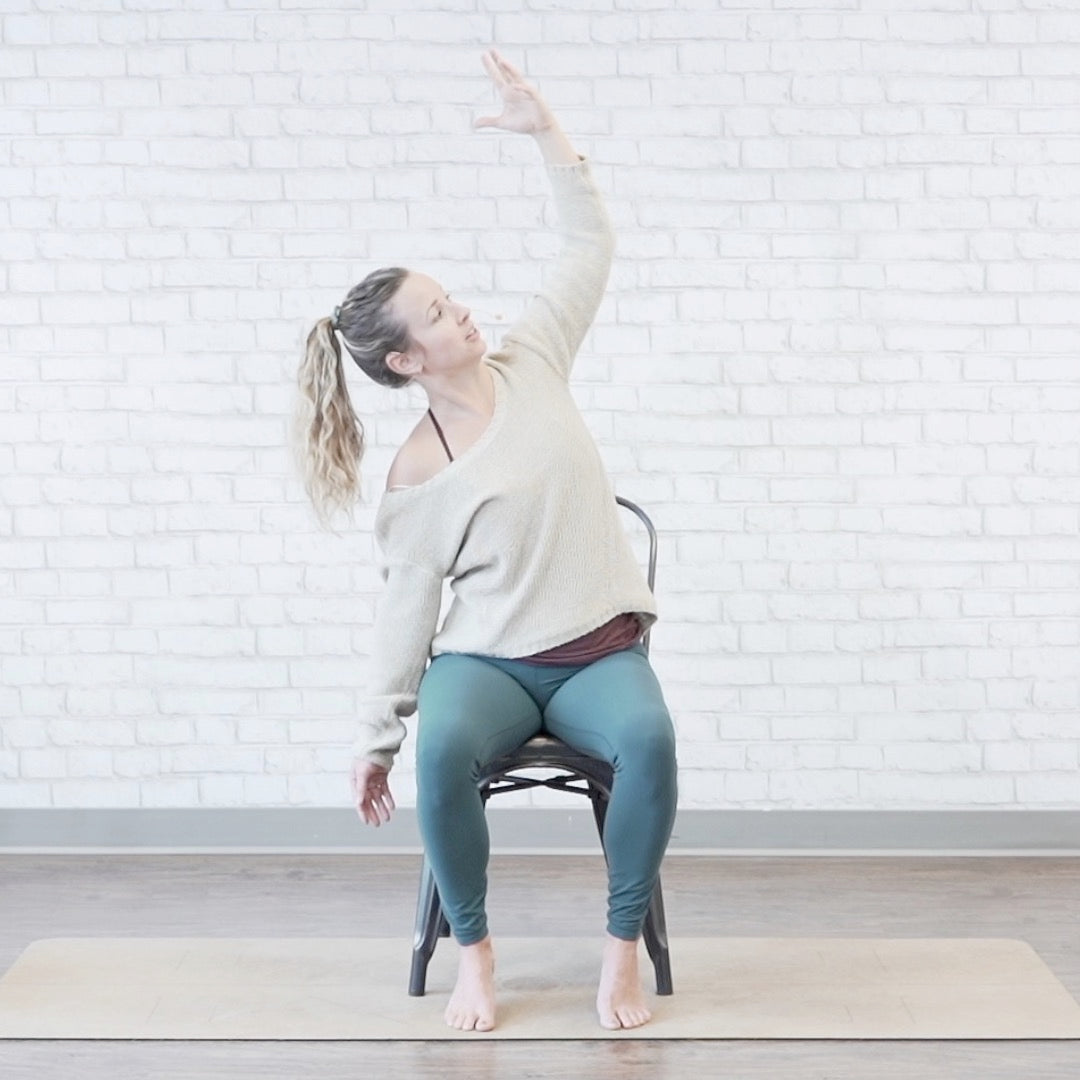 Thank you so much for your review! We're so glad to hear you enjoyed the classes.
Yoga for digestion
Yoga positions helped me right away!
Thank you for your review! We're so glad to hear that you're feeling the benefits right away!
Excellent course - great results
Yoga for Improved Digestion has really improved my digestive health. I like that it only takes around 25 minutes a session with variety in each class.
Hi Millymaker,
Thank you for your review, Millymaker!
We're happy to hear that you've found the Yoga for Improved Digestion Digital Class helpful and informative. We hope you continue to enjoy your Better5 classes!
Kindly,
Better5 Support
Yoga for Improved Digestion
This class was easy to do and I bought it as I have a diagnosed stomach issue and was prepared to try anything and did find the classes most helpful.
Hi Frances,
Thank you for your feedback, Frances!
We are happy to know that this class was helpful for you.
Kindly,
Des
Better5 Support
Soothing
I have been diagnosed with colitis and this program has taught me simple exercises & stretches. Now I can do my part to relieve the pain and improve digestion by working with my body. I am very grateful for this course.
Hi Linda,
Thank you for the wonderful review! We're glad to hear that our Yoga for Improved Digestion Class has been helpful in relieving your pain and improving your digestion.
Best,
Better5 Team Support