Regular price
$47.00 USD
Sale price
$17.00 USD
Unit price
per
Sale
Sold out
How To Reverse Bone Loss & Strengthen Brittle Bones—At Any Age

The secret ingredient to strong bones is... 
7 Days Of Classes

30 Minutes/Session

Includes floorwork

Rated: Beginner

Equipment: Mat; Bands; Weights
Instructor: Melanie Morrisette
Join Melanie as she shows you how just a small amount of resistance in your workout can add strength to your bones, improve your balance & replace the fear of falling with moving with confidence!
Weight-bearing, resistance exercises cause tension to your bones which stimulates your bones to produce more bone tissue. Essentially, your bones work just like your muscles. And the best part is you don't need to use heavy weights or lots of resistance—just a couple of pounds will do! Your bones will become stronger & more dense while lowering the risk of osteoporosis, fractures & osteopenia.
You might also like the 10 minute chair version "Seated Bone Density"
Sneak peek below! Check out Day 1 for free:
Who is this course for?
Older adults
Anyone with brittle or frail bones
Those worried about falling
People who want to improve their balance
Anyone looking to get stronger bones
Everyone! All the exercises in this class are gentle
What are the benefits?
Helps decrease the rate of bone loss
Improves bone density
Develops stabilizing muscles to improve balance
Reduces likelihood of falls
Increases confidence and independence
Develops better spine & hip support
Increases musculoskeletal strength
With this class, you'll get:
7 days of step-by-step classes

30 minutes per class

Closed captioning

Instant access

Own all classes for life (NO subscription)
FAQ:
Do I need to get down on the floor and back up? Yes, some exercises are on the floor.
What equipment is needed?

 

All you'll need is a mat, bands & weights.
How physically demanding is this class?

 This is a gentle class that requires you to get on the floor but won't push you too hard. 

Most of the exercises are simple and do not require a high level of fitness.
Instant access after purchase.
Share
How to use

If you are purchasing a digital class, you will be prompted to login after purchase. You can use the class immediately.

If you are purchasing a DVD, we will ship the DVD out to you within 48 hours of purchase!
100% Money Back Guarantee

Money back guarantee for 90 days. If for whatever reason you are not pleased with a class, we will refund you. If you want to try out another class, we can swap out any class for another! 
View full details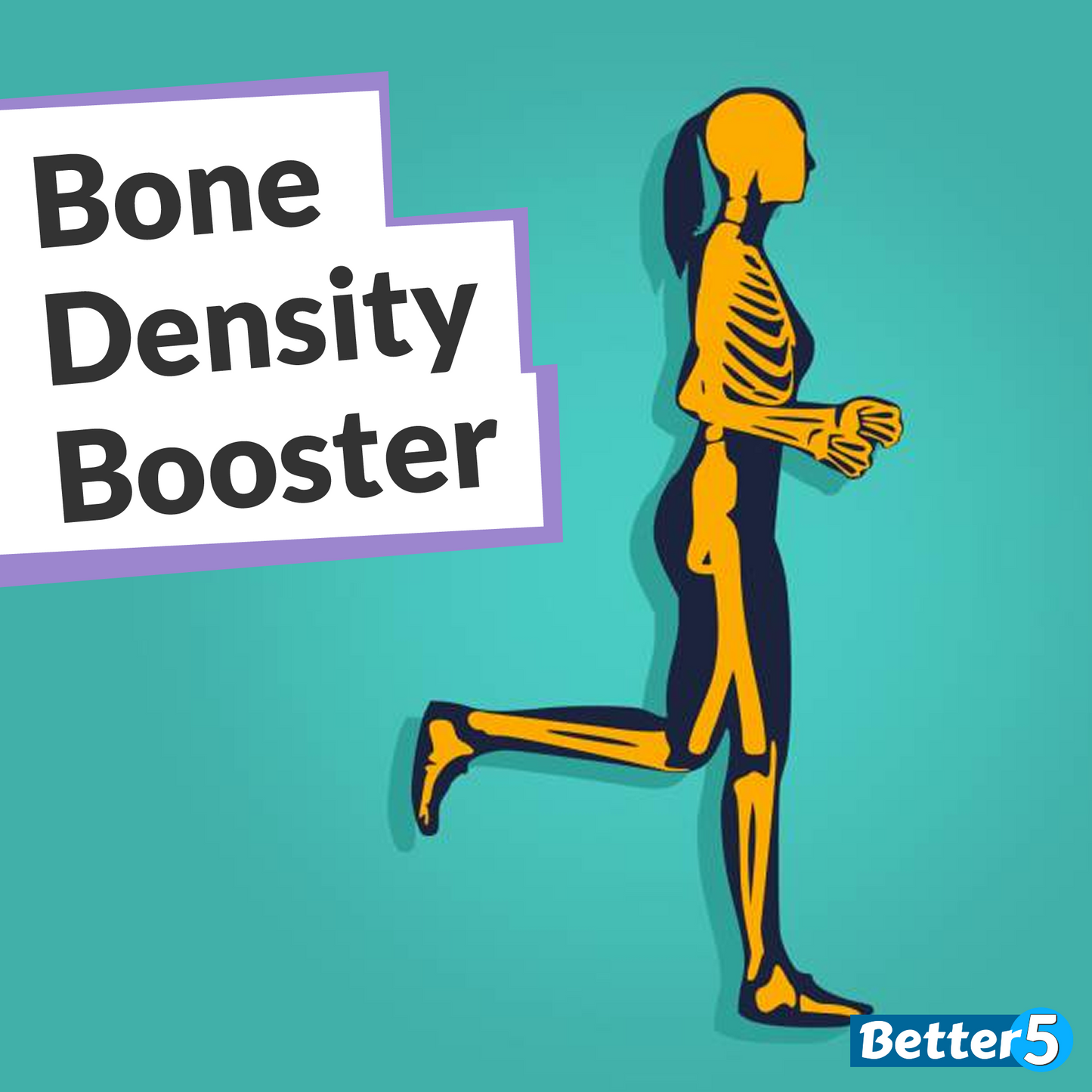 Bone density
I enjoy this class. It does make me work up a bit of a sweat and is a challenge to switch from one exercise to another (fast paced) but I feel like I need a bit of a challenge. None of the exercises by themselves are too difficult.
Thank you for your positive review of the Bone Density Booster Digital Class. We're glad you enjoy it!
Bone density
The sessions are more vigorous and now I have progressd to another level. I find the outcome very beneficial for my well being. Thank you. Judy Meyer
We're so glad to hear that, thank you for sharing!
Bone density booster digital class
I haven't been doing this class that long but bought it as I have osteoporosis and feel it's helping my bones. It's gentle exercise and the lady showing you the exercises understands some people may not be able to do the exercises like she does. I love all Better5 exercise classes as I have many different types according to my health issues. I feel they are really helping an elderly lady like me of 73.
Hi Frances! Thank you for your review! We're glad to hear that our Bone Density Booster Class is helping you improve your bone health so far. We hope that it continues to do so.
Bone Density Booster Digital Class
Hi Sandy,
We appreciate the fab review, Sandy!
Best,
Des
Better5 Support
This class is so good for my bodThe instructor is very soothing and informative. Love it.
Hi Pat,
Thanks for letting us know how much you are loving the class, Pat!
All the best,
Des
Better5 Support